Sweat drips from my hairline. My chest heaves up and down as I try to focus my mind on the task at hand. My legs burn with overuse. I look back. How far have I come? Ten feet. I've walked ten feet. Give me a trophy, I'm an Olympic medalist.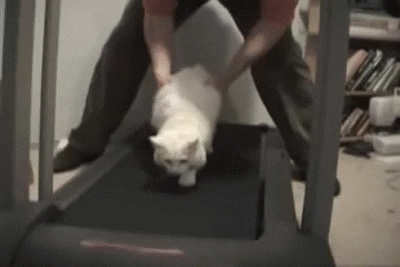 These days, I roll my eyes at my own incompetence. I become out of breath making my bed. Shaking out a rug hurts my arms. I have to fake clap in church because my palms don't like the notion of slapping one another. My hands have a good relationship. I'm not ruining that with physical abuse.
As I was packing up my old workout clothes today, I did some reflection on the massive amount of workout outfits I owned. I don't buy in excess. I buy in need. So one can see how much time I used to spend at the gym. Who needs friends when you have free weights?
I got into weight lifting my senior year. Three years before that I had played high school volleyball. I've made girls cry at the net because I was "too tall." Now I look at my limp noodle arms, considering it an accomplishment to bring in groceries from the car.
As I look back, I realize I was never very fit. All the other girls could run circles around me. I was out of breath after five minutes of jogging. I couldn't jump as high as them. I always thought my lack of endurance was because I wasn't as athletically gifted as everyone else. I know now it's because my body was fighting to keep going.
I still was, however, as healthy as I could be. I felt okay most days. Now, I can't quite remember what it's like to have energy. Occasionally, I'm gifted a "good day" where I feel almost normal. On those days, I skip around, driving into town to shop or see friends.
One of the hardest things about being sick is I can't exercise. Believe me, I've tried. But walker dancing never caught on. Exercise has always been a stress relief for me. Even in the years I was in pain, exercise helped to mask the symptoms. Can't notice stomach pain if your thighs are burning, right?
In all my sentimental whining, I find a bit of self-righteous anger. I get mad at people who waste their day away on the couch, on their phones, in front of the TV. All by choice.
Now I'm angry at myself for being angry.
I shouldn't be judging people. Just because something was taken from me that I love, I shouldn't resent those who willingly choose not to have it. Just because I can't risk face planting on a too-fast treadmill doesn't mean I should resent those who wish to protect their faces.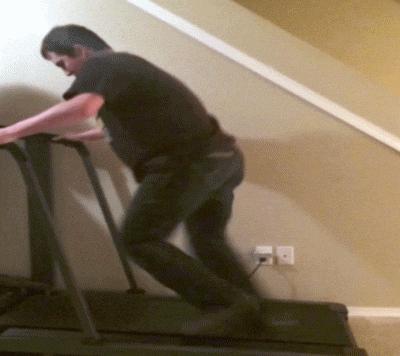 1 Corinthians 4:3-5 (NIV)
3 I care very little if I am judged by you or by any human court; indeed, I do not even judge myself. 4 My conscience is clear, but that does not make me innocent. It is the Lord who judges me. 5 Therefore judge nothing before the appointed time; wait until the Lord comes. He will bring to light what is hidden in darkness and will expose the motives of the heart.
The Bible talks about running the good race. Fighting the good fight. Until the end. God never said each course would be the same. They're different lengths, full of different obstacles, giving to each what they can handle. With His help, of course.
1 Corinthians 9:23-25 (NIV)
23 I do all this for the sake of the gospel, that I may share in its blessings. 24 Do you not know that in a race all the runners run, but only one gets the prize? Run in such a way as to get the prize. 25 Everyone who competes in the games goes into strict training. They do it to get a crown that will not last, but we do it to get a crown that will last forever.
We can't judge others because we can't see their courses. While I sit on my blessed behind and judge someone else who willingly sits on their blessed assurance, I can't see the things they're going through.
Do they have an injury? Are they exhausted from work? Do they have social anxiety? Are they battling depression? Are they suffering loss?
Acts 20:23-24 (NIV) – Paul speaking of his persecution when called to Jerusalem
23 I only know that in every city the Holy Spirit warns me that prison and hardships are facing me. 24 However, I consider my life worth nothing to me; my only aim is to finish the race and complete the task the Lord Jesus has given me—the task of testifying to the good news of God's grace.
In the same way, I can't judge myself. I oft compare myself to others, especially other people who have the same disease. I get mad at myself for saying my struggle is hard when I see that others have it so much worse. Or, I compare myself to other people my age and become frustrated with myself for my lack of independence.
As my mother often reminds me, I'm comparing apples to space comets. I can expect myself to go to school, work, and attend every church function. I can't volunteer like I used to. I have to rest more than other people. It's not laziness, it's necessary.
In the same way, we can't compare our running course, or obstacles, to other people's. God has a unique path paved for each of us. Our personalities, characteristics, and gifts are all different. It's foolish to try and run the same course.
Hebrews 12:1-3 (NIV)
Therefore, since we are surrounded by such a great cloud of witnesses, let us throw off everything that hinders and the sin that so easily entangles. And let us run with perseverance the race marked out for us, 2 fixing our eyes on Jesus, the pioneer and perfecter of faith. For the joy set before him he endured the cross, scorning its shame, and sat down at the right hand of the throne of God. 3 Consider him who endured such opposition from sinners, so that you will not grow weary and lose heart.
So, I'll keep my buttocks seated and my fingers typing. I'll keep my head down, with my nose in my Bible. I'll refrain from judging that person taking the elevator instead of the stairs. And I'll let myself have the occasional donut.
Donut judge me.
2 Timothy 4:7 (NIV)
I have fought the good fight, I have finished the race, I have kept the faith.